"Couldn't Sleep With all that Racit!" - Beauty, The Night Guard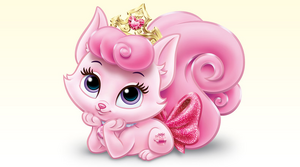 Beauty (Dreamy) is a Graceful Cat who belongs to Aurora. The cat was found by Aurora while She was napping on some flowers. The princess picked her up and named her Beauty, Though her friends call her Dreamy. She voiced by Erin Fitzgerald. In Whisker Haven, Dreamy is voiced by Myla Beau while Clare Gundersen does her singing.
Personality
Edit
Beauty loves to sleep and play all day. When She is sleeping, She dreams about the future days at Whisker Haven and When she is awake, Beauty loves to hug Windflower like a teddy bear.
Merchandise
Edit
Furry Tail Friends
Switch a tail Pets
Minis
Build-A-Bear
Beauty and Bliss
Baloon Buddies
Glitzy Glitter Friends
Whisker Haven Target 5 Pack
Kinder
Lego
Super Bright!
Magical Lights Pawlace
Fashion Tails
Sweetie Tails
Pawcation
Cuddle Plush
Pop and Stick (Series 1)
Appearences
Edit
The Night Guard
Cake-Tallion (speaking cameo)
Throwing a Ball
Hat's a Wrap
A Dreamy Birthday
TuTu Terrific
Harvest Haven
Pets On the Hunt
Whisker Haven Masquerade
Chowing Down
Where's Taj (cameo)
Treasure's Island
Winter In Whisker Haven
Is the only cat who was renamed for the show.
Ad blocker interference detected!
Wikia is a free-to-use site that makes money from advertising. We have a modified experience for viewers using ad blockers

Wikia is not accessible if you've made further modifications. Remove the custom ad blocker rule(s) and the page will load as expected.