"Couldn't Sleep With all that Racit!" - Beauty, The Night Guard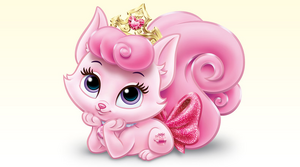 Beauty (Dreamy) is a Graceful Cat who belongs to Aurora. The cat was found by Aurora while She was napping on some flowers. The princess picked her up and named her Beauty, Though her friends call her Dreamy. She voiced by Erin Fitzgerald. In Whisker Haven, Dreamy is voiced by Myla Beau while Clare Gundersen does her singing.
Personality
Edit
Beauty loves to sleep and play all day. When She is sleeping, She dreams about the future days at Whisker Haven and When she is awake, Beauty loves to hug Windflower like a teddy bear.
Merchandise
Edit
Furry Tail Friends
Switch a tail Pets
Minis
Build-A-Bear
Beauty and Bliss
Baloon Buddies
Glitzy Glitter Friends
Whisker Haven Target 5 Pack
Kinder
Lego
Super Bright!
Magical Lights Pawlace
Fashion Tails
Sweetie Tails
Pawcation
Cuddle Plush
Pop and Stick (Series 1)
Appearences
Edit
The Night Guard
Cake-Tallion (speaking cameo)
Throwing a Ball
Hat's a Wrap
A Dreamy Birthday
TuTu Terrific
Harvest Haven
Pets On the Hunt
Whisker Haven Masquerade
Chowing Down
Where's Taj (cameo)
Treasure's Island
Winter In Whisker Haven
Is the only cat who was renamed for the show.
During the duration of the show, three tomcats take interest in her: Shadow, Lightning, and Shadowpaw. However, each of these toms have an attribute of which prevent them from becoming her special somecat: Lightning is narcissistic, cruel, cold-hearted, and is unable to truly love anyone but himself, something of which makes Dreamy detest him, Shadow forces himself to keep his distance from her as he believes his dark powers may hurt her, and Shadowpaw suffers a similar yet even worse fate: His life as The Feline Phantom, his disfigured appearance, his life hidden away underground, his strange, obsessive, reclusive behavior, his initially cold personality, his strong lack of confidence, his own, inner struggle in which he believes he's a monster himself and doesn't deserve love, and the fact he has cut off ties from the world above drives a wedge between their would-be relationship. However, she ends up with Shadow in the end, and they even have a little daughter named Cici, who is a main character in the second series Palace Pets: Whisker Haven Adventures.