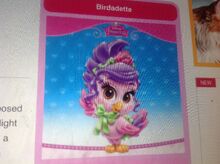 Birdadette was Tiana's new pet little bird. She is voiced by Taylor Bulwinkle. In Whisker Haven Tales,She is voiced by Anastasia Bredikhina.
quotes: La La La! Didn't see ya there. Can you help me look splendid for the party?
Being Bathed: Tweet!
Being Brushed: I look lovely! Enough brushing!
Eating: so many choices!
(Eating a cracker: Divine!
Eating a fish: Scrumptious!
Eating seeds: One More Please!
Eating a acorn: No No No! Food is so much!
Getting Dressed: that one please!
Appearance
Edit
Birdadette is a lilac bird with magenta markings and purple hair. She wears a green crown, a ribbon, and a flower shaped bow.
Personality
Edit
Birdadette has a special gift, Singing.
Merchandise
Edit
Appearances
Edit
Birdadette, Bibbidy, and Morgan are the only Palace Pets with ribbons.
It is unknown how Birdadette got magenta markings.
She has the same hanging bangs as Tiana.
She doesn't Say worlds with R or L right.
Relatives
Edit
Ad blocker interference detected!
Wikia is a free-to-use site that makes money from advertising. We have a modified experience for viewers using ad blockers

Wikia is not accessible if you've made further modifications. Remove the custom ad blocker rule(s) and the page will load as expected.