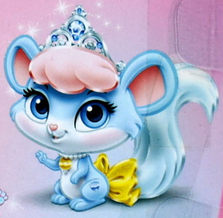 Brie/Gallery
Brie/Quotes
Brie Belongs To Cinderella That Found Her In The Stables By The Horses.
She will be added to Whisker Haven app with Macaron And Taj. She is voiced by Hannah Swain. She sings the song: I just wanna do chores.
Personality
Edit
She has a southern accent. She often says words such as Giddi-up a roo, and Hee Haw Hi!
Merchandise
Edit
Furry Tail Friends
Minis
Pop and Stick (Series 1)
Appearances
Edit
Bee Cool
Brie-zy does it!
Winter in Whisker Haven
Brie can tie up Critterzens.
In the app, Brie is naked.
WHM10:Lost on Pawcation
Edit
Ad blocker interference detected!
Wikia is a free-to-use site that makes money from advertising. We have a modified experience for viewers using ad blockers

Wikia is not accessible if you've made further modifications. Remove the custom ad blocker rule(s) and the page will load as expected.