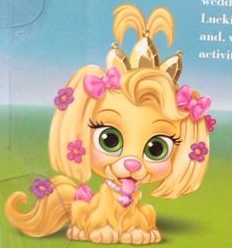 Daisy is a happy puppy who belongs to Rapunzel. The puppy and princess met at the snuggly duckling when the pug thugs gave Rapunzel Daisy herself. She is voiced by Sandy Fox. In Whisker Haven Tales, she is voiced by Kallen Holley (Whisker Haven Masquerade) and Kuchi Brasco (Treasure's Island)
Personality
Edit
Daisy is a Artistic puppy who loves to make a work of art. Even though Daisy can be scrappy sometimes, She never bites the hand that feeds her.
Merchandise
Edit
Furry Tails Friends
Minis
Lego
Sweetie Tails
Pop and Stick (Series 2)
Daisy resembles Summer.
Despite being given the name Daisy, she appears to not wear any.
Ad blocker interference detected!
Wikia is a free-to-use site that makes money from advertising. We have a modified experience for viewers using ad blockers

Wikia is not accessible if you've made further modifications. Remove the custom ad blocker rule(s) and the page will load as expected.