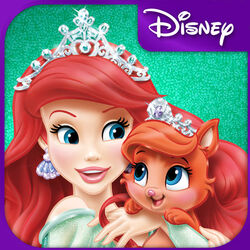 Disney Palace Pets App is a free app that features the Palace Pets.
But just all 33 Palace Pets are featured in the app
Berry, Pumpkin, Beauty, Treasure, Teacup and Blondie are feautured in the App for free
Sweetie, Bayou, Daisy, Blossom, Windflower, Bibbidy, Seashell, Bloom, Petit, Sultan, Lily, Meadow, Slipper, Matey, Summer, Lapis, Gleam, Lychee Nuzzles and Rouge are In-App-Purchases
Bloom is free in the app however you have to submit your email. 
Blossom is also free but you do not have to submit your email. 
Muffin, Honeycake, Fern, Taj, Pounce, and Sundrop are the six pets and they not yet in the App. There are sources saying when they will be updated into the app.
Summer, Lilly, Petit, Sultan, Seashell, Windflower, Bloom, Bibbidy, Sweetie, Bayou, and Daisy can only speak in English.
Matey Meadow and Slipper are only can speak in English.
Lapis and Gleam are only would speak in English.
Lychee, Nuzzles and Rouge are only speak in English.
The apps full name is "The Disney Princess Palace Pets Royal Salon Game"