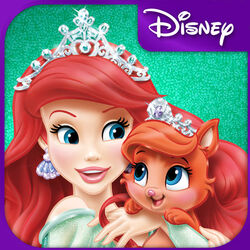 Disney Palace Pets App is a free app that features the Palace Pets.
Just all 47 Palace Pets
Pumpkin, Beauty, Teacup, Treasure, Berry And Blondie is featured in this app for free.
Sweetie, Bayou, Daisy, Blossom, Windflower, Seashell, Bloom, Lily, Slipper, Matey, Summer, Lapis, Gleam, Lychee, Nuzzles, Blossom, Taj, Pounce, Sundrop, Fern, Plumdrop, Truffles Stripes, Snowpaws, ThistleBlossom, Sandy Pearl, Booksy, Fireball, and Macaron are In-App-Purchases
Bloom is free in the app and you don't have to submit your email. 
Blossom is also free but you have to submit your email. 
Meadow and Pounce are free but you need to submit your email. 
Tumbles is free and you don't have to submit you email. 
Vanilla, Honeycake, Brie, Puffy, Birdadette, River, Nola, Favicon, Ash, Slingshot, Skyla and Nahual are the pets and they not yet in the App. There are sources saying when they will be updated into the app.
Pounce, Sundrop And Taj are only can speak in English
Muffin, Truffles, Fern and Plumdrop are only can speak in English.
Stripes, Snowpaws, ThistleBlossom and Sandy Pearl can only speak in English
The apps full name is "The Disney Princess Palace Pets Royal Salon Game"
Characters
Edit
Berry is a cuddly bunny who is Snow White's Pet. They met in the woods, just like with Fuzzy. She is voiced by Cassandra Lee Morris.
Teacup is the most talented puppy in the world found by Belle at the village square. She is voiced by G:K Bowes.
Treasure is a cute little kitty for Ariel. One Day, She walked to Eric's ship, and the boys would love to keep her. She is voiced by Cree Summer.
Blossom is a hungry panda. Blossom and Mulan met at a banquet, getting ready to eat. She is voiced by Stephenie Sheh.
Dreamy is a sleepy kitty who sleeps a lot. She is Aurora's and met in the garden. She is voiced by Myla Beau Though her voice was credited as Erin Fitzgerald in the app.
Sultan is a feisty and rather cranky tiger cub who protects his friends from germs. He is Jasmine's and they met in the market. He is voiced by Bruce Papenbrook.
Daisy is Rapunzel's happy puppy. Daisy was a gift from Rapunzel's friends from the Snuggly duckling. She is voiced by Sandy Fox.
Pounce is a young, protecting bobcat kitten who is Pocahontas's so called knight in shining armor. He accidentally pounced into the longhouse, but Pocahontas wanted him to stay with her. He is voiced by Lucien Dodge.
Gleam is a spirited fawn born in the centre of nature, Gleam and Rapunzel met in the forest, The deer took Rapunzel home. She could be voiced by Melissa Fahn, but her real voice is unknown.