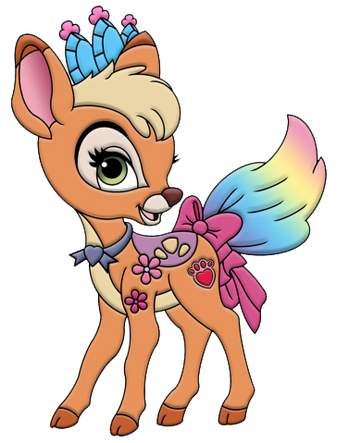 Gleam is Rapunzel's adorable little deer, with a true love of nature! She is voiced by Katherine Forrester.
Appearence
Edit
She looks like Bambi.
Personality
Edit
A nature critic With a good and wandering science of direction.
Merchandise
Edit
Furry Tail Friends
Magic Motion Pets
Appearances
Edit
Buddies Days
Whoop-De-Doo!
She is the only girl Palace Pet who looks like a boy.
In the app, Gleam looks like a horse.
Whisker Haven Quotes
Edit
You look like one of Rapunzel's flowers.
Ad blocker interference detected!
Wikia is a free-to-use site that makes money from advertising. We have a modified experience for viewers using ad blockers

Wikia is not accessible if you've made further modifications. Remove the custom ad blocker rule(s) and the page will load as expected.