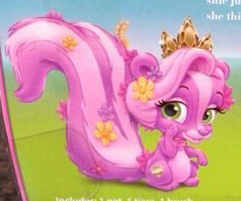 With a shimmering fur and big green eyes, Meadow just may be the most beautiful skunk in the kingdom! Rapunzel and Flynn first saw her while strolling the castle garden. Flynn tried to shoo the skunk away, But Rapunzel defended Meadow. She is voiced by Melissa Fahn. In She will be free in the update from the Royal Salon App.
Personality
Edit
Meadow and Rapunzel stroll through the kingdom together When they Are together. Meadow is simply adores being royal! In Whisker Haven, She shows off her scents.
Merchandise
Edit
Furry Tail Friends
Minis
Plushies
Glitzy Glitter Friends
Magical Lights Pets
Fruity Fashions Pets
Pop and Stick (Series 2)
As a toy, Meadow only has one flower on her.
"Princess!"
"Stop That!"
"A Lady Skunk does not Swing on Vines."
"You Can Go There, As Long as Petite Stays Yes."
"Do You Mind if Our Kids Spend the Night Too?"
"Ok, We'll Pick Them Up in The Morning!"
"Do You Like This Scent?"
"They're All Having Fun at Petite's House, Let Them Play!"
"Honey, You Were There Too?'