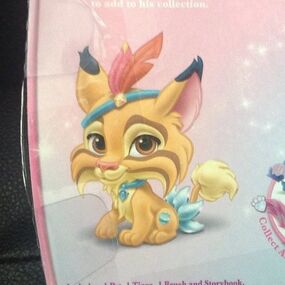 Pounce is a golden-colored bobcat For Pocahontas. He met Pocahontas when the bobcat pounced into her longhouse. Pocahontas smiled at him. He is voiced by Lucien Dodge.
Personality
Edit
Pounce is a jolly Ol Bobcat who loves to help his friends. But sometimes, He gets a little off the hook and does not pay attention to the pets in need.
Merchandise
Edit
Furry Tail Friends
Minis
Talking and Singing Pets
Appearances
Edit
Whisker Haven Masquerade
The Nightmare festival
Halloween Mask Terror
He was added to the Whisker Haven App.
As a toy, his tail was bigger.
Ad blocker interference detected!
Wikia is a free-to-use site that makes money from advertising. We have a modified experience for viewers using ad blockers

Wikia is not accessible if you've made further modifications. Remove the custom ad blocker rule(s) and the page will load as expected.