"I know what you are Gonna Say, Booksy!" - Pumpkin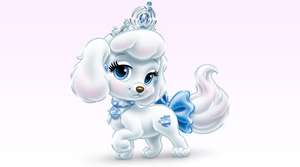 Pumpkin is a glamorous puppy who adores the palace. She met Cinderella on a big night- A special Evening. The prince gave her a present- It was Pumpkin! 
She is voiced by Tara Platt in Most Media, In "Whisker Haven Tales with the Palace Pets" she is voiced by Bailey Gambertogilo, and Michelle Davis in Hey Skyla!.
Personality 
Edit
Pumpkin is a dancing pup who loves well, Dancing! From twirling to curtsying like a princess, She says "Pink and Glitter might always be for girls, But twirling is for Everyone". When all the dance recitals are done, She likes to get pawfectly styled by Bibbidy.
Merchandise
Edit
Furry Tail Friends
Minis
Beauty and Bliss
Talking and Singing Pets
Wiggle and Wag
Touch and Feel Books
Magical Dance Pumpkin
Glitzy Glitter Friends
Whisker Haven Target 5 Pack
Balloon Buddies
Lego
Kinder
Pawcation
Cuddle Plush
Pop and Stick (Series 1)
She appears in the Whisker Haven App.
She is a main character from Whisker Haven.
She has no earrings in Palace Pets App.
Pumpkin appears to be a poodle.