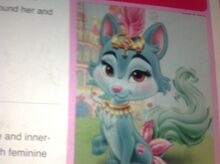 At a full moon when the princess heard a sad howl, Pocahontas found River. She is voiced by Tori Kelly > In Whisker Haven Tales, She is voiced by Lizzy Stubenrich. She will be added to the Whisker Haven App for free in Thistleblossom, Sandy Pearl, Gleam, and Lychee's update.
Appearance
Edit
River is a teal wolf with gold and pink accesorices and a minty green tail.
Personality
Edit
River loves to have friends all over her.
Merchandise
Edit
Furry Tail Friends
Minis
Beauty and Bliss
Appearances
Edit
She hates her claws.
Despite being voiced by a Young actress, in Whisker Haven, she sounds like a adult.
Bader thinks she's cute
Ad blocker interference detected!
Wikia is a free-to-use site that makes money from advertising. We have a modified experience for viewers using ad blockers

Wikia is not accessible if you've made further modifications. Remove the custom ad blocker rule(s) and the page will load as expected.