Sandal is
Charlotte
's gorgeous and faithful companion. She is a dog.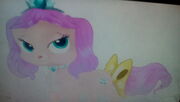 Personality
Edit
Sandal loves singing and shiny things, she often takes them to her secret cave.
She is a spaniel like Teacup and Macaron
Her favorite color is fuchsia the same color as tinia's dress but she is Charlotte's
She is the only pet of Charlotte who lacks having blue in her color scheme.