"Cold Toeses!" - Skyla, Good Singing, Bad Stage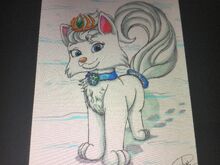 Skyla Is Blue Fluffy Arctic Fox Who Belongs To Elsa. She met Elsa one day on the first day of winter. She was starting to make the snow until a sleeping fox popped up. She is the Most Popular, Even Out of the Main Ones, When Her and Berry appeared in A Mattress Addvertizer was when Skyla was not awake the Entire Time, Why she Fakes Sleep when She Does not Want to do Something.
She is voiced by Mary Katherine Dillon.
Appearence
Edit
Skyla is a white fox with white paws and a blue pawmark. She wears gold crown to look like Elsa, a blue ring on her tail, and a necklace with a snowflake. Her Turquoise wings appeared in Whisker Haven Tales.
Personality
Edit
Skyla loves to hibernate. When She's in Whisker Haven, she gains the ability to fly in circles all around the world. If One if her Friends takes long for Something, He or She will make Her Asleep. What a Lazybutt!
Merchandise
Edit
Furry Tail Friends
Magical Lights Pets
Magical flight Skyla
Bright eyes Skyla
Quotes: Let's fly away! Original Wuotes Getting a bath: Uh, what a nice sooth bathtime!
Being Brushed: Be careful of my powers!
Eating: An icicle, Wow!, An stick, I will eat a little more, please!, A grass, That's fine!, A apple, Awesome!
Getting Dressed: That won't hurt when I sleep WILL IT?
Appearences
Edit
Fairy Room
Slipper Sparks
Wake Up, Skyla!
Skyla takes flight
Halloween Night (Cameo)
"This is my Daughter, Winter!"
Bibbidy and the Buses
Edit
"Now Cut That Out!"
"Give Bibbidy A Chance."
"I'll Lead the Carol, so I'll Ring the Doorbell.
"Look! Everyone loves the New Buses!"
Frozen Hearted Skyla
Edit
"I Got the Ball!"
"Sorry Kids, Gotta Go!"
"Yes Sweetie, just got in a Frozon Lake!"
"Would You Do It for Me, Palace Pets?"
"If They're Going So Am I!"
"Deal with It, You Two!"
"Toodle Loo!"
"YOU THOUGHT THAT I WAS DEAD!?"
"Let's Celebrate!"