Wildflower is a naughty raccoon met by Pocahontas in a log. She is voiced by Marievve Herington. In Whisker Haven Tales, She is voiced by Mila Brener.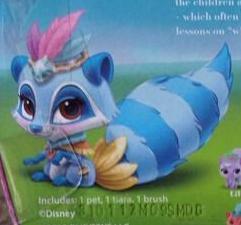 Appearence
Edit
Wildflower is real with yellow accessories.
Personality
Edit
Wildflower is naughty as a villain, But her alignment is still unknown. It's possible that she is a kibble Krook. What she really shows is that she entertains Children and likes to Eat Chips.
Appearences
Edit
Whisker Haven Masquerade
Chowing Down
Slipper Sparks
Winter in Whisker Haven (Cameo)
Truck or Treat
Merchandise
Edit
Furry Tail Friends
Minis
Talking and Singing Pets
Super Bright!
Glitzy Glitter Friends
Ad blocker interference detected!
Wikia is a free-to-use site that makes money from advertising. We have a modified experience for viewers using ad blockers

Wikia is not accessible if you've made further modifications. Remove the custom ad blocker rule(s) and the page will load as expected.